Introductory Workshops to Solarplate at the Printroom
Solarplate or Printmaking with Sunlight is a new form of printmaking for artists that is simple, safe, time effective and versatile. Solarplate describes the process of printing from light sensitive plates that have been exposed to sunlight or an artificial source of UV light and then developed in tap water. The effects of traditional methods of printmaking such as relief, intaglio and lithography can be achieved from a single type of plate. The method is easy to learn – previous knowledge and experience of printmaking processes and materials is not essential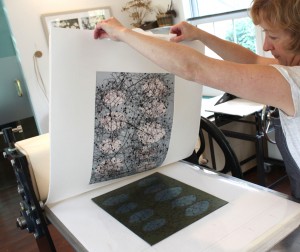 Susie Turner is an established artist and experienced tutor who regularly delivers talks and demonstrations about traditional and contemporary methods of fine art printmaking. In the last seven years Susie has worked extensively with Photopolymer Plates. This one-day workshop will allow participants the opportunity to work closely with Susie in her studio and learn the basics of Solarplate printmaking – working with digital photographs, hand-drawn originals and found material.
Saturday 21st June (fully booked) and Saturday 12th July 2014. 10am – 4.30pm, Max of 4 participants.
For all enquiries please contact Susie by email.